How Does 30 Minutes Sound?
Sales taxes takes an average of 1-3 days to prepare. Inputting data another 1-3 hours. Tax Traks Gets It Done Fast And Right! Our software helps automate and simplify the tax reporting process.  Extensive research and thought has gone into making Tax Traks a wonderful and easy to use platform.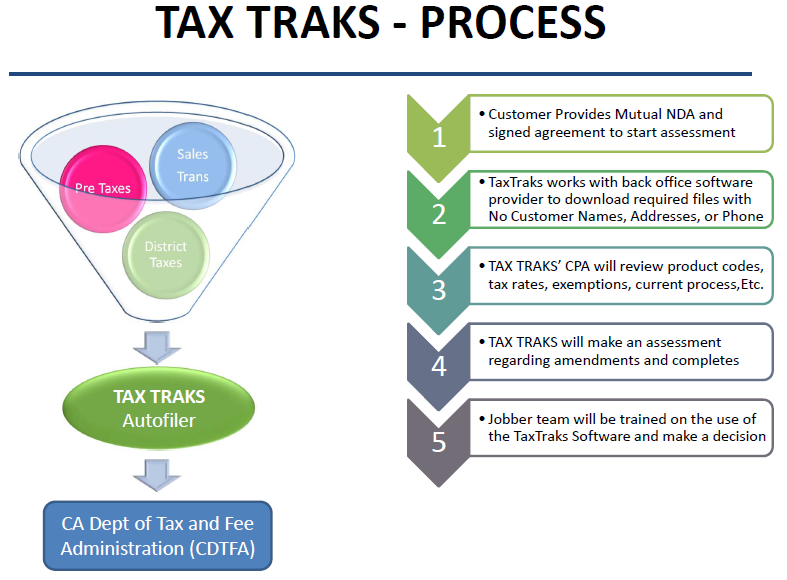 Our Commitment Is To Automate Complex & Difficult Tasks
We realize from 40 years of experience that preparing and filing tax reports can be one the most stressful tasks your accounting team completes. It has become incredibly complex as the state of California has created three separate product categories of tax rates, partial sales tax exemptions, over 200 district taxes, creating invisible cash flow drains for Jobbers AND ABUNDANT OPPORTUNITY FOR OVERPAYMENT!
Easier, More Profitable, And Less Stressful Reporting
For many firms, the time saved with this platform frees up time with their key staff members to focus on other critical areas of the business that often are starved of management time wasted on compliance and tax reporting.
The fuel tax reporting role can be the most difficult accounting area to replace and train. Seemingly small mistakes result in massive over or underpayment that can threaten the survival of the organization. The State takes no responsibility for the complexity and continuously changing rate structures.
These Products Are Your Opportunities For Automation
Schedule A & B Pre Tax Reports for Jobbers and their Clients Oregon Tax Reporting for CFN, Pacific Pride, Voyager, and Wright Express Sales Tax Reporting for Gasoline, Diesel, Red Diesel, Lubricants, and C Store Prior Monthly and Quarterly Tax Report Auditing and Refund Recovery Specialty Research and Filing with Foreign Purchase District Tax Refunds Shared resources and experience of recently found problems and refunds Ongoing Back Office System Integration for easier imports and automation.
NOTE: INTEGRATION IS AVAILABLE WITH ALMOST ALL ACCOUNTING PLATFORMS
DON'T LET THE STATE KEEP YOUR MONEY!
SCHEDULE YOUR FREE ASSESSMENT TODAY!